Gracelia Yanowsky of F.A.N.C.Y., a global non-profit organization, which is the humanitarian arm of the Argentinian government, interviewd Safiyya/WBS for Argentinian TV (2019.) Click on the movie logo below to watch the video of the interview.
Honoring the First Lady of Nigeria Aisha Buhari for her work in combatting human trafficking in Nigeria. It was held on September 27, 2018 at the Mission of Nigeria to the United Nations.
| | |
| --- | --- |
| Safiyya and Dr Malika Issoufou Mahamadou, First Lady of Niger who also is a frorerunner in combatting human trafficking in her country. | Safiyya and Mrs. Fatoumatta Barrow, First Lady of The Gambia as an advocate in fighting to end human trafficking in The Gambia. |
PLAN INTERNATIONAL UK
Delivering the Call to Action on Forced Labor,
Modern Slavery and Human Trafficking for Adolescent Girls
September 25, 2018 at the Scandinavian House in New York City
| | |
| --- | --- |
| Faridah is youth speaker for Plan International Uganda and an advocate in combating human trafficking in her native country of Uganda. She herself, has been sexually exploited. The roads in many places in Uganda are very unsafe for girls. | Safiyya and Faridah |
"ON HER SHOULDERS" This film was held at United Nations Headquarters on February 18, 2018. Depicting the life of Nadia Murad, UN Goodwill Ambassador and the first Iraqi to be awarded a Nobel Peace Prize in 2018 (joint.) She was trafficked by ISIS in her Yziddi homeland.
Nadia escaped her captors in 2014. Since then, she has devoted her life to saving the Yziddi people. With her attorney's help, Amal Clooney she has made the Security Council realize a genocide was taking place in her country. She became UN Goodwill Ambassador for UNODC.
| | |
| --- | --- |
| Safiyya Sarkin, Nadia Murad, 2018 Nobel Peace Prize Winner and Yvonne O'Neal. | Safiyya standing near the poster "On Her Shoulders" |
| | |
| --- | --- |
| | The title of the film "On Her Shoulders" |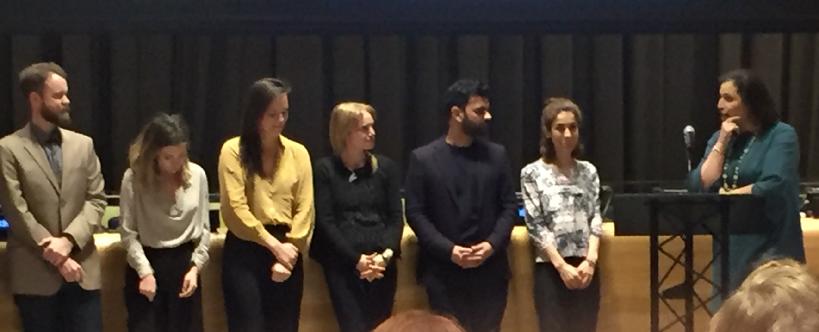 Standing at the pulpit is Simone Monasbian, the Head of UNODC and one of the sponsors; next to her is Nadia Murad, her fiance, and the writers and producers of the film.
Violence against Women and Girls Forum held at the New York City Public Library - Bloomingdale Branch: August 30, 2017
Human Trafficking in Haiti - July 2017
Safiyya Sarkin with WBS and AKSYONE speaking to a mother in Haitiwho had two of her children trafficked from the orphanage she ran. They were her own children who were trafficked over years ago by a Dutch woman - July 2017
WBS Youth Advocating Against Violence Against Women and Girls

HUMAN TRAFFICKING
Trafficking of Persons domestically and globally are crimes against humanity. The victims should not be punished for something they did not do voluntarily. Punishment should be concentrated on the perpetrators.
Not On My Watch Conference at Coop City, New YorK, July 14, 2016
Faith Based Communities in Combatting Human Trafficking